Here's an interesting tool I found at a recent auction: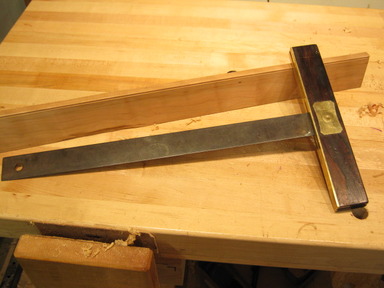 This is a T-Square that serves two purposes.  It has an eighteen inch blade with a Brazilian rosewood and brass body. It functions as a normal square but the body can be split to act as a bevel: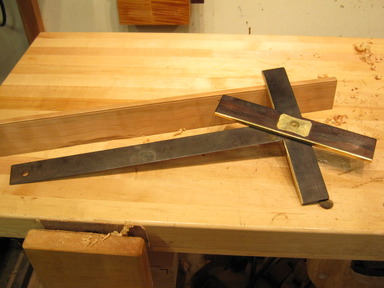 It is marked "John Wilson, Sheffield" on the end grain of the stock:
Goodman's book on British Plane Makers describes Wilson as making "joiner's tools" in Sheffield from 1868-1901. He later combined with Robert Sorby in 1901. The tool doesn't have any way to lock in a particular angle, but the hinge is tight enough that it takes a decent amount of force to move it once it is set to a particular angle. As such, I'm inclined to believe that this layout tool was indeed intended for the draftsmans' or architects' desk and not the joiner's bench or a job site. I think it's a really neat layout tool- a keeper for sure.
I've asked around and haven't found anyone yet who knows what this layout is called, or if they are common or now. Has anyone seen one before? Drop me a comment and let me know.