In my last post I published some pictures of a Harvey Peace P-70 handsaw I recently found and had restored. Just before I crossed paths with that saw I found another fairly rare Harvey Peace saw to add to my collection- the No. 60. The 60 was the top-end of Peace's line of traditional handsaws. It has a full size plate, traditional handle pattern (as opposed to the "Perfection" line which had let-in handles) and a nib at the saw's toe. The 60 was unique in that it was made from the highest grade of London Spring Steel and featured a beautiful wheat-carved apple handle. The handle had the double loop similar to a Disston 12 and long, sweeping horns. It is a highly refined handle design.

The 60 is a very uncommon saw. In over 10 years of collecting Peace saws I've come across only one, a beat-up thumb-hole ripper. That drought let-up a few months back when a No. 60 appeared on eBay- properly identified and accompanied by nice photos. After a week of sweating I snatched it up at the last second for a price I was very happy with. The saw arrived a few days later in great shape.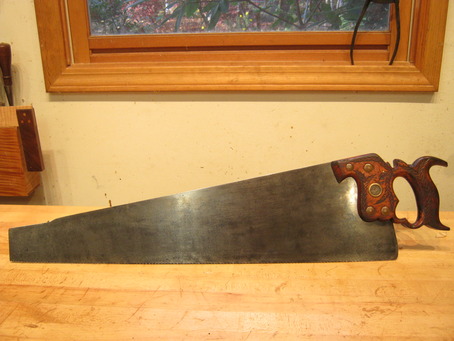 The saw did have a few issues- the top horn had significant damage,  the thin double-loop handle had a pretty ugly crack and the plate was far from straight. Since this was the only No. 60 I've found I wanted to have it restored properly. I sent it out west to Michael Merlo, the same guy who worked on my P-70. A month later the saw showed up on my doorstep in fantastic condition. The repairs to the handle are solid and nearly invisible. The saw plate is straight and sharp, and the saw cuts incredibly well. It's truly a pleasure to use.
This saw, like many Peace saws has a custom secondary etch for a hardware store. In this case the saw was etched for Frank Stauber & Co. Stauber was a Swiss immigrant who came to America in the 1860s. He started a hardware company and was later elected to Chicago's board of alderman.
Some additional pictures of the No. 60 handsaw: