Hello everyone!
The freak October snow storm hit us especially hard here in Connecticut. The snow fell fast and piled up to more than a foot at our house. It was a wet, heavy snow that stuck to everything. Most of the trees still had their leaves  which resulted in lots of snow build-up. The heavy limbs broke and took entire trees down. The damage was incredible- dar worse than the hurricane that hit less than two months ago. We lost power and utilities for five days. There are still several tens of thousands without power in the towns north of us. Overall we fared very well. We lost several trees but sustained no damage to our home. After the hurricane, which left us without power or water for seven days, we invested in a good inverter/generator so this time we had water, lights, and some basics. Our wood stove, as always, kept the house warm. Again, we were very lucky.
Yesterday I had a visit from a local sawyer I found. Back in August we had some tree work done on our property to remove some of the more hazardous trees that were too close to the house for me to cut myself. I'm good with a chainsaw but I won't cut any decent size trees within a tree length of the house. We were left with close to five cords of firewood on the ground and six decent logs that I wanted to have sawn.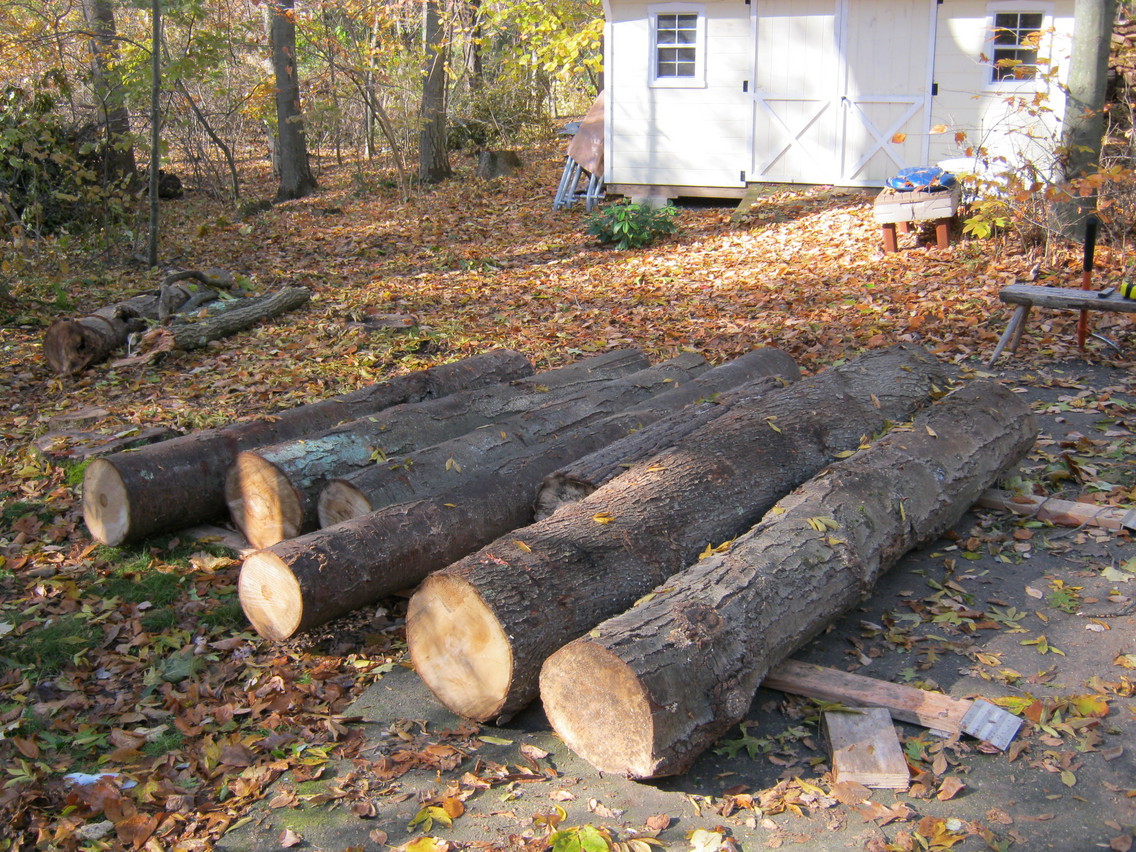 Most of the trees we had cut were black birch- Betula lenta, also called sweet birch. Black birch is a pioneer species, one of the first trees to grow when land is reclaimed. It grows fast and dies young. Most of our property was farm/pasture land up until about 80 years ago. The birch we had cut must have been some of the first to grow after farming stopped. In those 80 years these trees grew to about 24 inches in diameter but by now they were past their prime and dying off fast. Black birch gets nasty cracks and cankers that progress quickly making the trees unsafe. The trunks were decent size- 18-24 inches diameter and fairly straight and clean.
I hoped to get some decent lumber out of these logs. Black birch isn't something you will find at a lumber yard- it's not really a commercial species though it is used for veneer in some cases. The wood is extremely hard- one of the hardest native species in the US. It's a diffuse-porus wood meaning there is no variation between the early and late wood resulting in a very even, smooth texture and no visible pores. Although it's a very hard wood it works fairly easily with hand tools. I've made some things from some birch I cut a few years ago and found it to be very enjoyable to work.
My ultimate goal was to cut some quartersawn stock to use to make wooden planes. In the past I've done this by bucking the logs to the length I want then riving quartered billets out by hand and squaring them up on my bandsaw. This is a slow, time consuming process and results in a lot of waste. These days my free time is very limited and it just wasn't a practical way to procede.  I met a local sawyer with a mobile sawmill at a fair this summer. We got to talking about my job and he said he'd be happy to do it. I was surprised since it's a fairly small job, just seven logs, and I wanted it sawn in a particular way which is more time-consuming and more difficult for the sawyer. Andy, my sawyer wasn't put off at all by the size of the job or my requirements. He charges a flat fee per board-foot or a very reasonable hourly rate when quartersawing. He has no minimum, and charges a reasonable mileage fee. As the customer, I'm responsible for any resharpening fees on the blades or replacement costs if he hits a buried nail or something.
This Monday was the big day. He arrived mid-morning along with his wife. They had the mill setup and were cutting in under 30 minutes.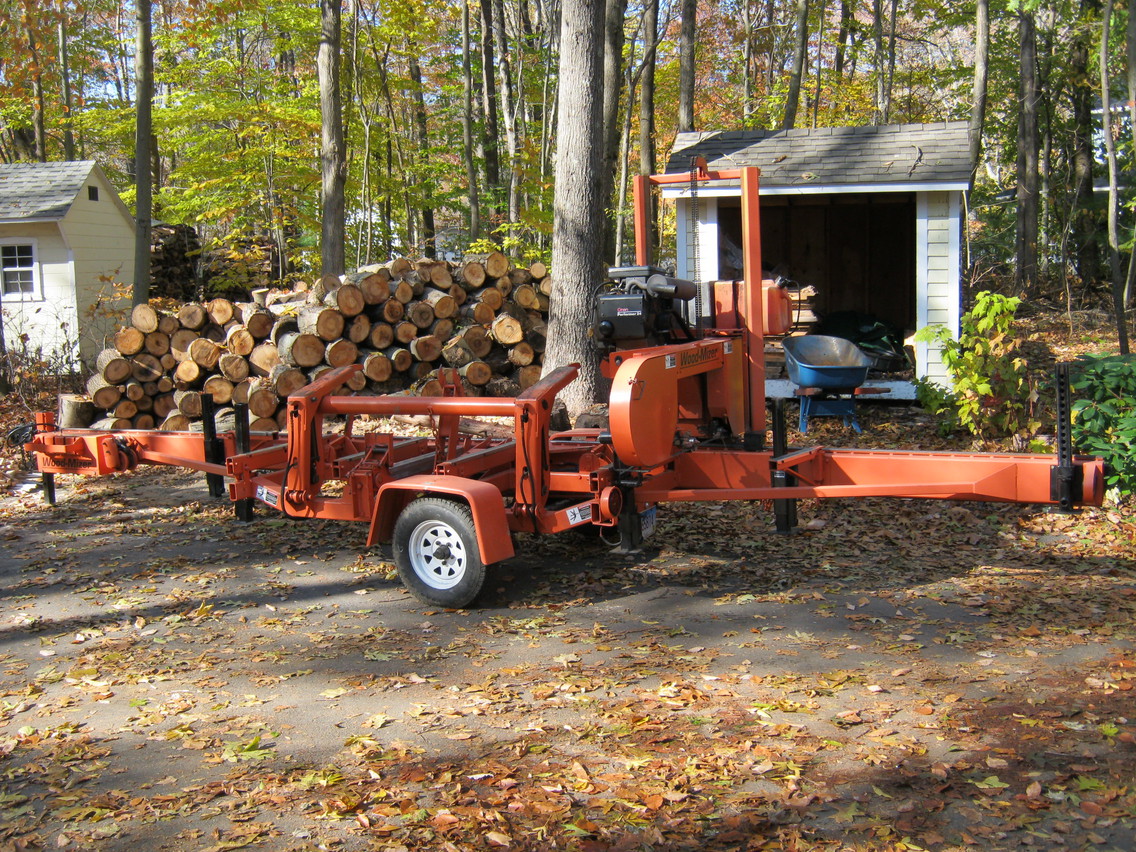 Sawing went quick and we were done within three hours, including a lunch break. I picked and stacked boards while he rolled the logs and setup the saw for the next cut. It went very fast. the surprise of the day was the bees- the sweet smell of the birch being cut attracted honey bees all days. They were everywhere- on the boards, in the sawdust, everywhere. It was pretty cool to see.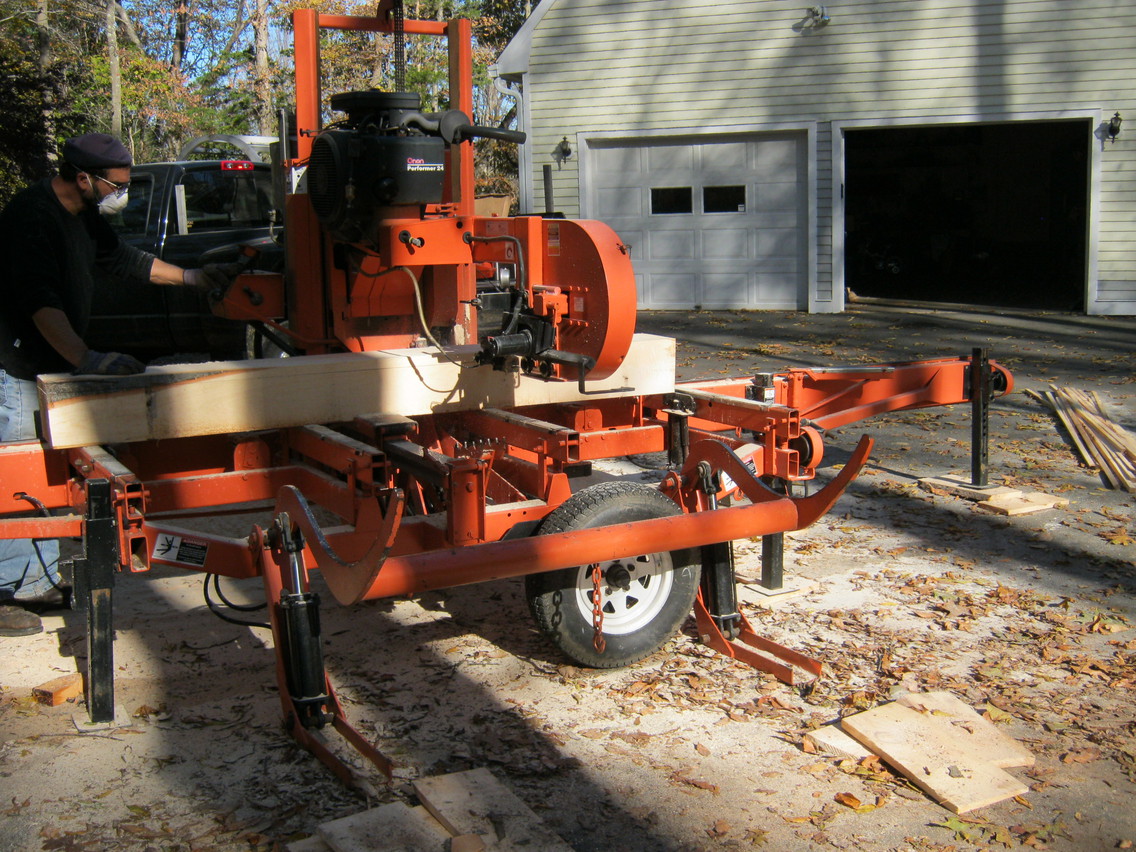 I wound up with a lot of usable wood- the quartersawn birch I wanted for planes as well as some really nice soft maple and a few slabs of cottonwood that I plan to use for benches (sitting not workbenches). I have it all stacked and stickered in the driveway for now. It will be processed and moved to its new home sometime soon (I promise, Dear). I like the idea of building with wood harvested from my property. It makes the end products a little more special in my view.
So, if anyone in the CT area is looking for a good sawyer who will travel, really knows what he's doing, and is willing to work with you, let me know and I'll send you his information.
Thanks for reading.. More tools should be coming this week.
-Josh