Hi Folks,
I added about 90 tools to my Tools For Sale page today. Have a look- I hope you find something you like.
A couple of notes..
I've been slowly updating my much-neglected website. I updated  my Terms and Conditions page to make it easier to understand the ordering process and my very simple terms of sale. I also made a few simple navigation changes and made some updates to my Harvey Peace web pages. I hope to make more significant updates soon.
I will be at the Lie-Nielsen Hand Tool show this Friday and Saturday along with many other vendors- see my last blog post for details. I've spent the last week putting together a bunch of really nice tools to offer for sale. Many will be available for a test drive- I'll have at least one bench available and lots of wood.
I want to thank everyone who subscribed to my blog over the past two weeks as a result of Peter Follansbee's mention on his blog.  For anyone who hasn't been following Peter lately, he has been selling some of Jennie Alexander's hand tools on his blog- a good opportunity to get some excellent tools with a notable provenance.
Finally, we had our fist hard freeze here in central CT on Thursday night. This meant the end of the growing season for most vegetables,except for the hardy winter greens. The day before I harvested our jalapeno pepper crop. I like to leave them all on the plants until  the very end of the season so we get a nice assortment of colors from red to green to almost black. Our four plants yielded more than 15 pounds this year, all of which are now canned and pickling, a total of 24 pint jars. I'm happy to report that my hands have finally stopped burning. Next year: nitrile gloves. I think I promised the same thing last year.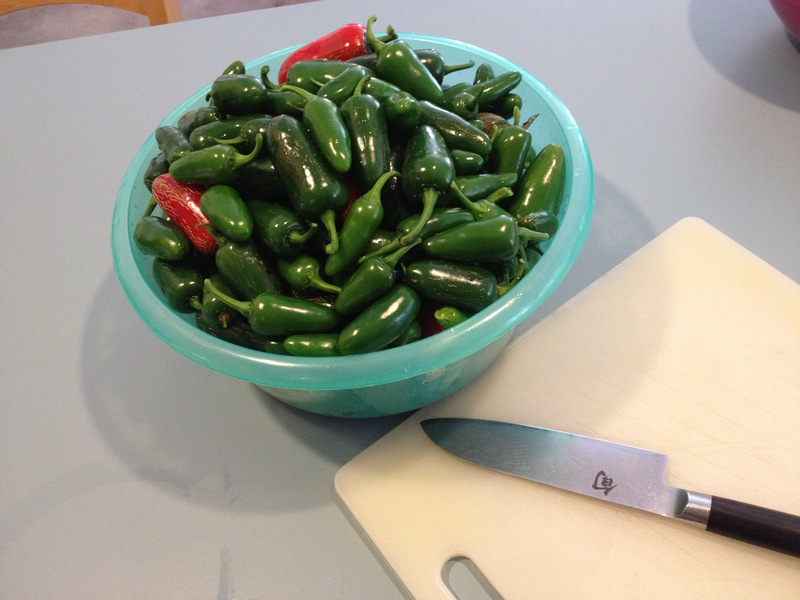 That's all for now. Thanks for reading!
Josh