The Handsaws of Harvey W. Peace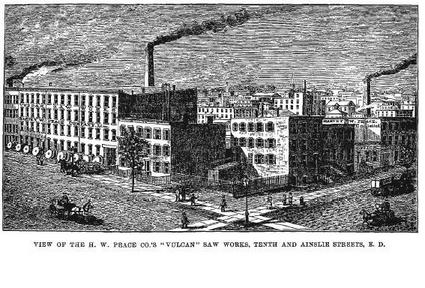 I've been collecting hand saws manufactured by Harvey W. Peace and the Vulcan Saw Works for several years. This web site is a collection of information I've obtained over this period. This web site is a work in progress and is by no means finished. I will update the site as I discover new information. If you have any information on Harvey Peace, have an interesting Peace saw in your collection, or have any comments or questions, please feel free to contact me at jclark@hyperkitten.com.
Company History A look the history of Harvey Peace Company and a brief biography of Harvey Peace.
Saw Models Pictures and descriptions of the various Harvey Peace handsaws I've discovered so far.
Patents A list of patents assigned to, and incorporated in Harvey Peace hand saws.
Resources A List of resources used while researching this project.
A Brief Description of the saw and file manufacturing industries in Brooklyn in 1884, and a look at the various skills involved in making a handsaw.
Copyright (c) Joshua Clark 1997-2009